Posts tagged
otome party
7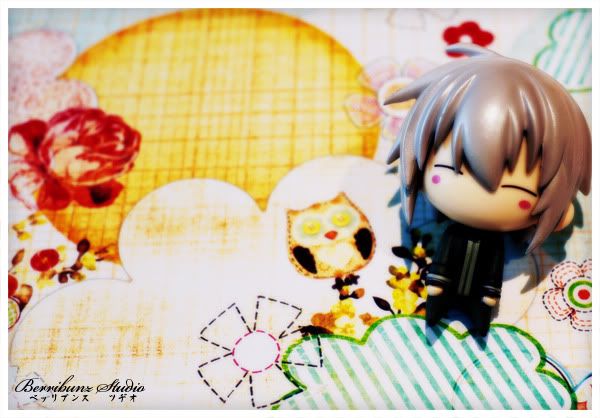 I attended the 1st OTOME Party that was held last Sunday and it was quite an experience. Though I pride myself at being a fangirl / fujoshi, most of the people I hangout with tend to not to be fans of the BL genre (*ahem*WLNF peeps*ahem*). Thus, it was interesting to finally meetup with a bunch of girls whom I share similar interests with.
Before I proceed onto the nitty gritty details of the event, I've included some pics from my latest photoshoot:
`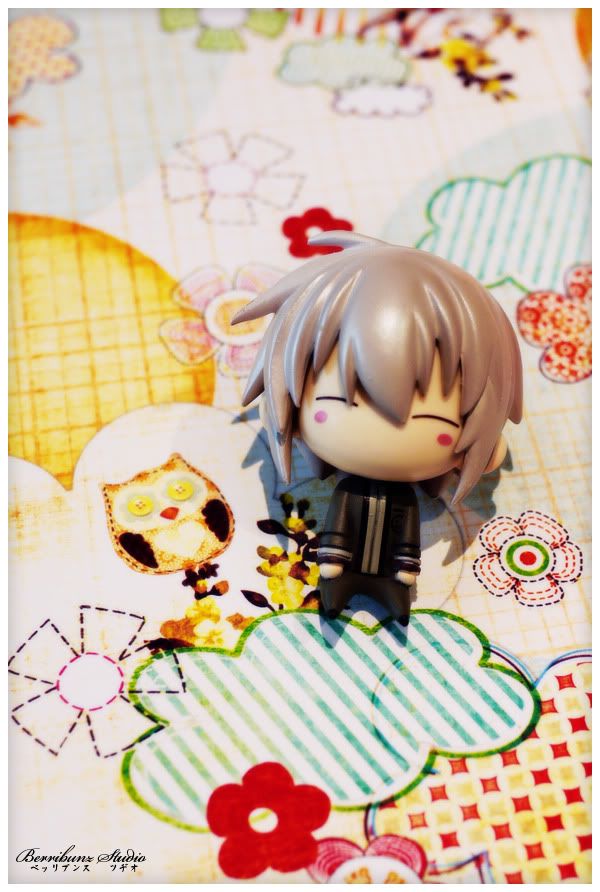 These little figurines are one-coin figures from various series like Hiiro  no Kakera (Komura Yuuichi aka cute fox boy)….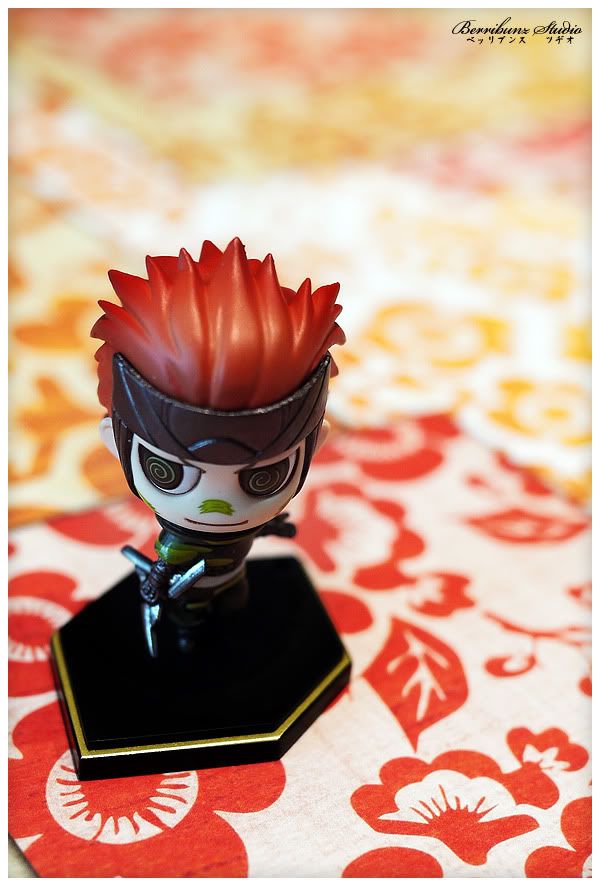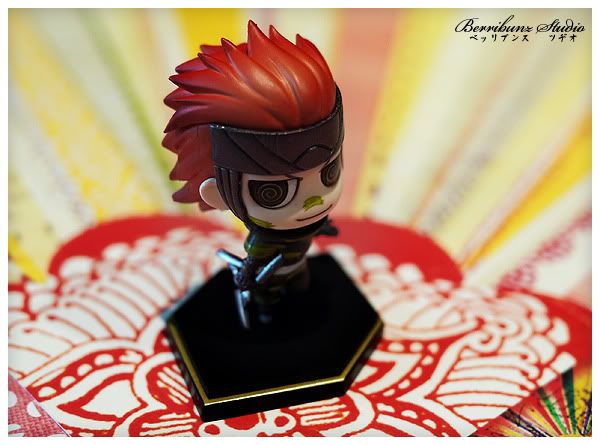 from Sengoku Basara …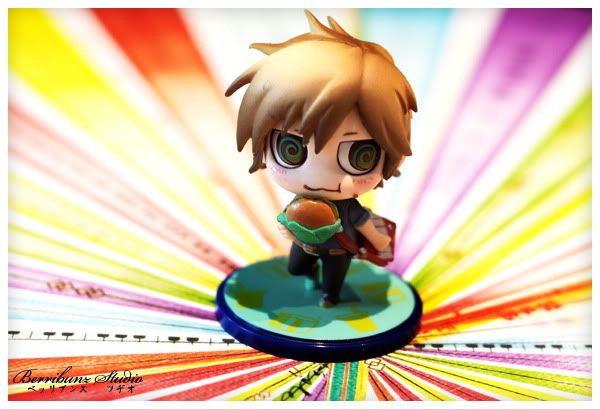 and a greedy little chibi bishie…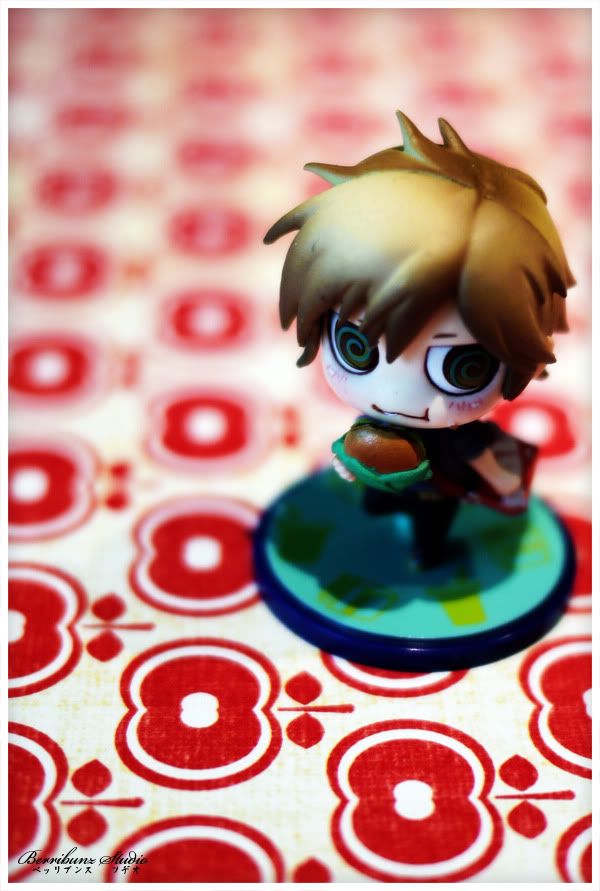 from Nitro + Chiral games.
Hee… I bought more pretty scrapbook paper that have some of the most lovely designs. Hope that I will get to use them in the future. As for the little figures, I got them at KOTOBUKIYA in Akibahara when I was in Japan. I had some extra monnies left and were saving to splurge yen on cute but random one-coin mini figures. Though not as versatile as Nendoroid Petits, these little chibi figures are surprising well made with exquisite attention to details. I would love to grab the latest One Coin Grande Figure Collection Hakuoki Shinsengumi Kitan as they are super adorable!
This can be seen from the illustrations of the lovely Hakuoki Alice x Cross cards that were used as trial decks during the Otome party.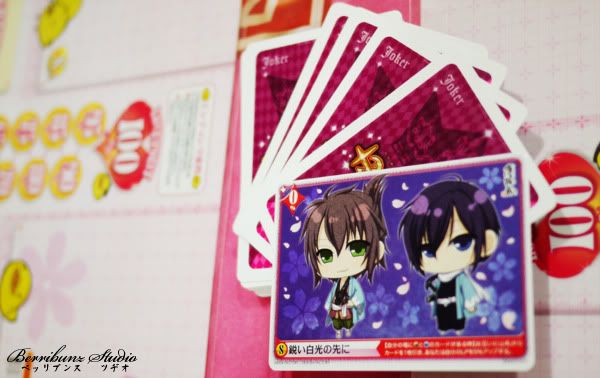 Much of the Otome Party was actually an introduction to the Alice x Cross Trading Card Game (TCG).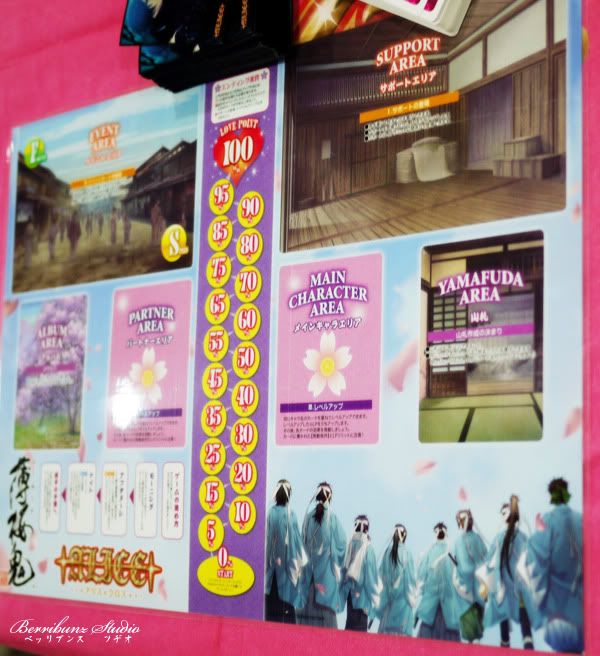 Tables for four were set up with laminated game mats and decks of 40 playing cards.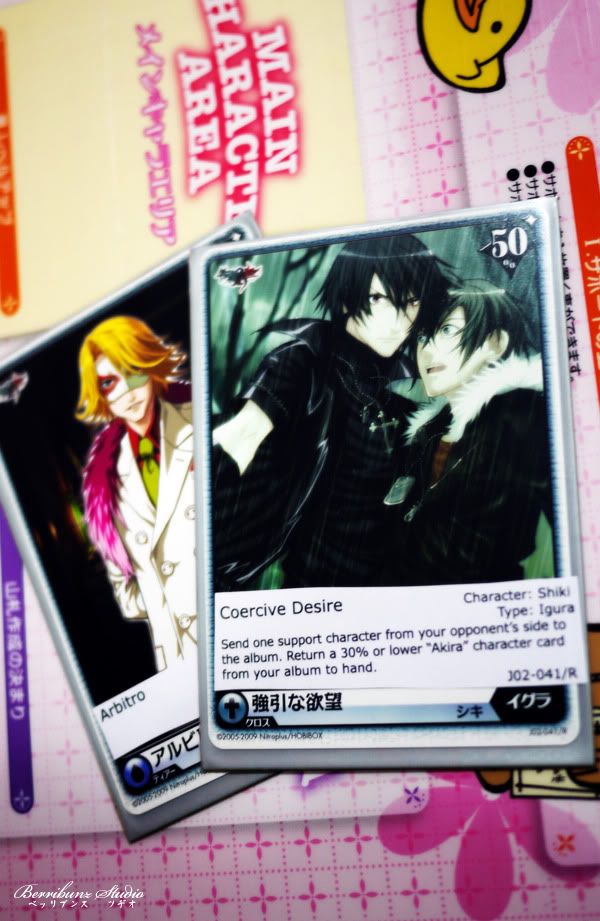 As the card descriptions are in Japanese, some of the decks came with useful translations to help those had difficulty understanding the native language. An instructor from a TCG shop (the one near KKnM in Sunshine Plaza) was attached to each table to guide the newbies to the game. And surprisingly, the instructors were mostly male. =D
The above cards are also safely protected in their plastic sleeves, which was a good thing as the finger food that was going around had a tendency to drip (cheese fries) and bounce (sotong balls).
Alice x Cross predominantly carries cards that are BL-centric or based off games meant for a female audience. However, the local TCG scene consist of mostly male players who play Weiss Schwarz and Chaos , as they carry cards based off more anime/game titles for a male fanbase. Thus, it looks like this Otome Party is an attempt at recruiting female forces into the TCG community as well as trying to get the local fujoshis to emerge from them cliques and get to know one another better.
I certainly had a fun time, and got myself acquainted with two lovely ladies Futomimii & Ariki. Futomimii has already posted here take on the event on her blog, which includes more pictures of the venue and merchandise that was on sale. =)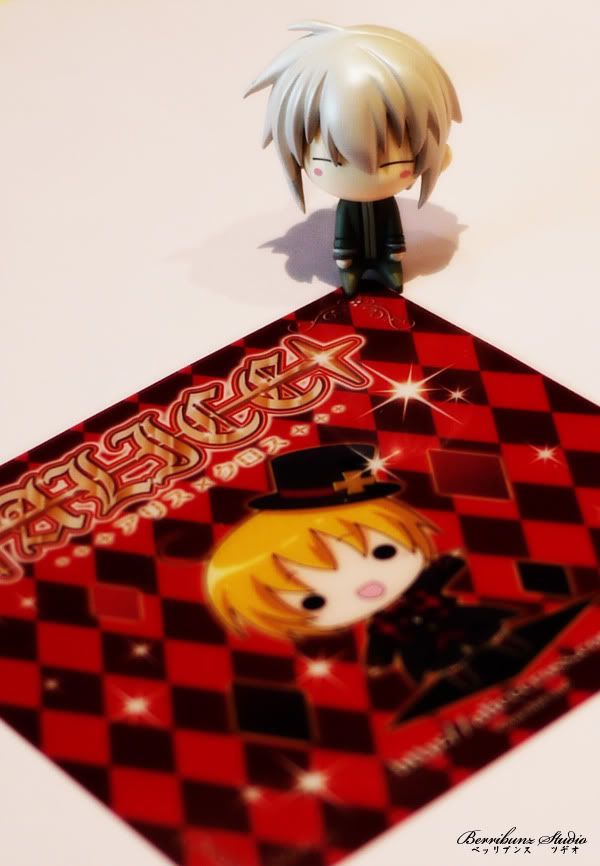 This cute coaster thingie is just one of the freebies that were given out in addition to a goodie bag that included two shitajiki boards and an A4 plastic folder.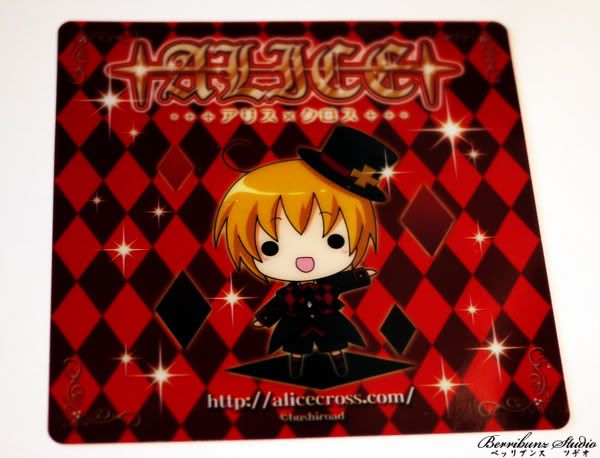 This shota in the illustration above is actually one of the two mascots for Alice x Cross. The other is an older dark-haired bishie. =D
Before starting the game, you'll need to buy Alice cards. They come in two forms: Starter packs and Booster packs. For me, I wanted the lovely Junjou Romantica (JR) cards and purchased a starter pack.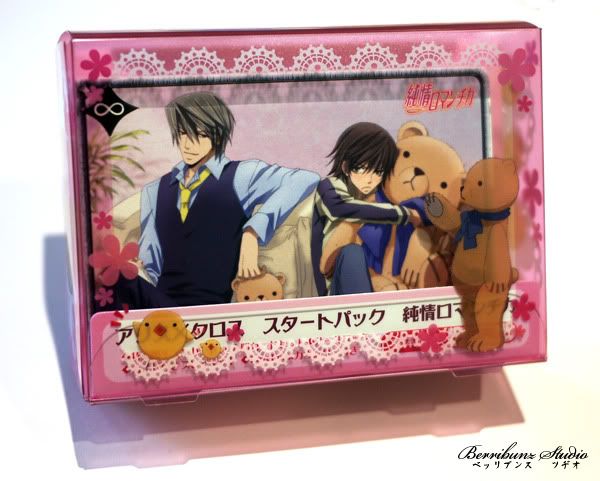 The hot boys from Hakouki also called out to me and I bought their starter pack too!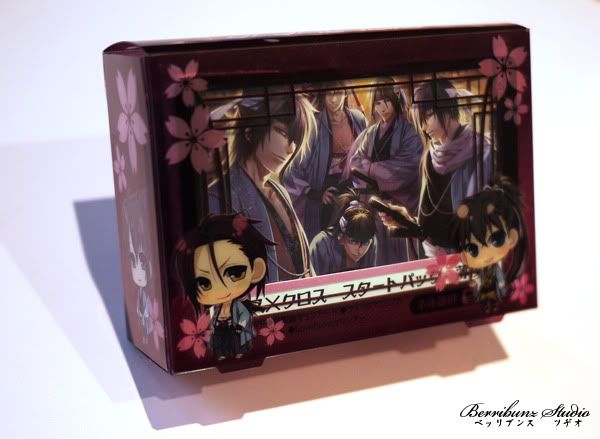 These starter packs come with a playing mat (or two… I seem to have lost one T-T) …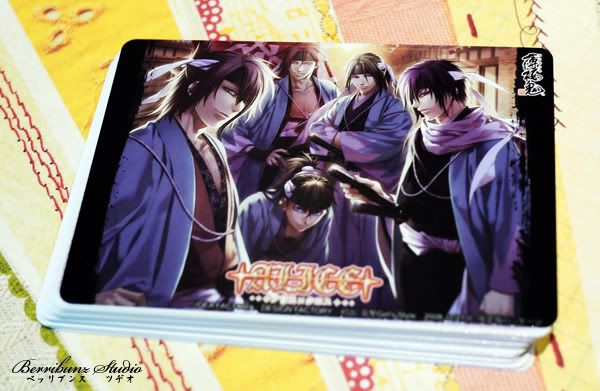 20 Alice cards and playing instructions.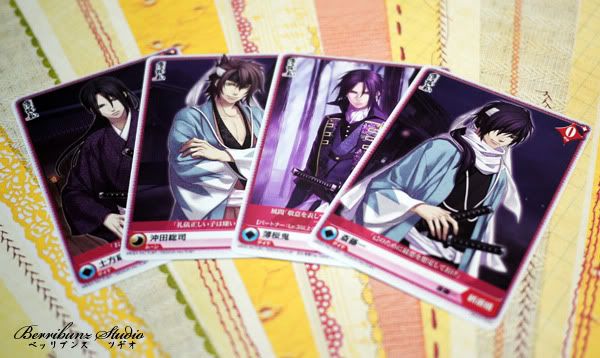 *drools at hot boys*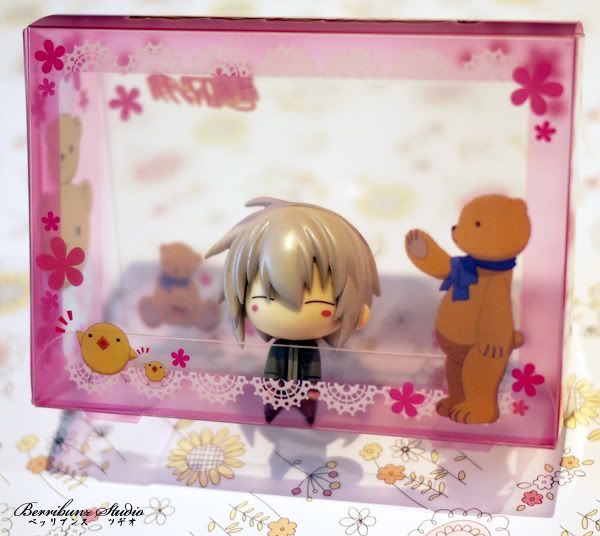 These plastic cases looks like good figure carriers… but the fact is that these boxes are made out of pretty frail plastic and I probably need to head over to Daiso to get a proper carrier box for my cards soon. =X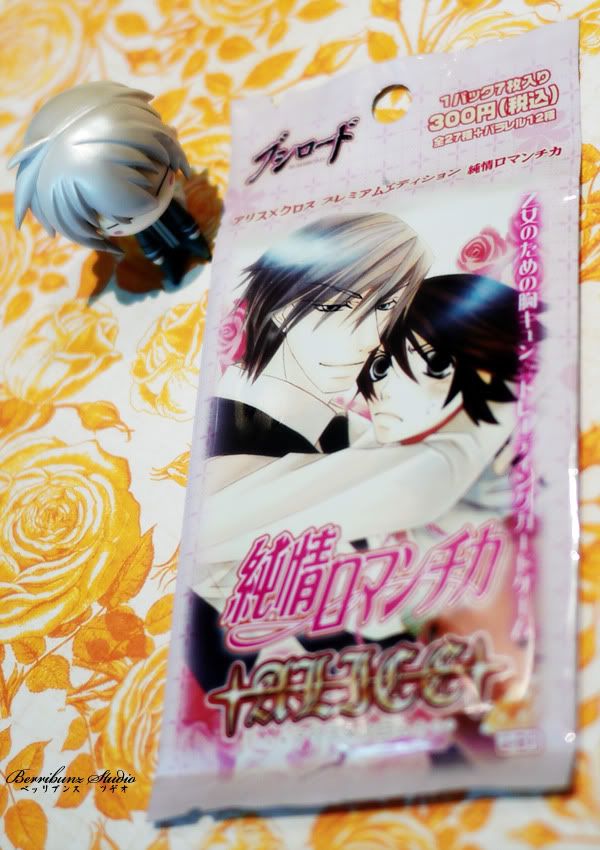 I also got two booster packs for my JR cards. Was convinced to make the purchase as these booster packs were touted to be limited edition Alice cards with Manga illustrations from JR.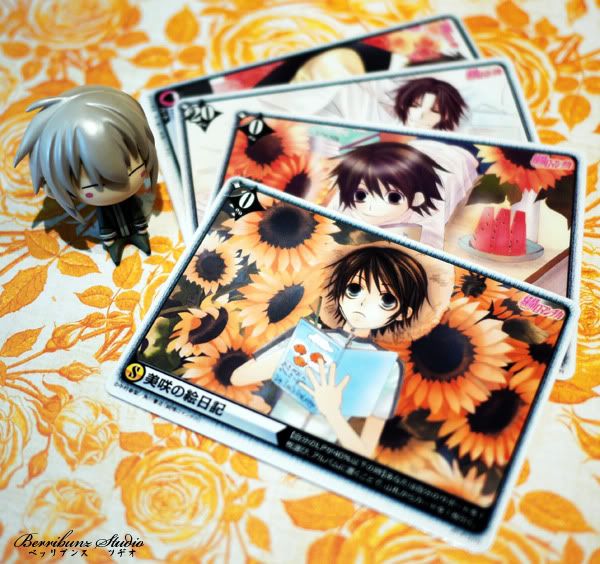 And I'm glad I bought them because the cards are just beautiful as collector's items. Which really brings up the point that buying Alice X Cross cards doesn't necessarily mean you need to play the game. It could just be collecting the cards for pure enjoyment and appreciation of the anime/game titles!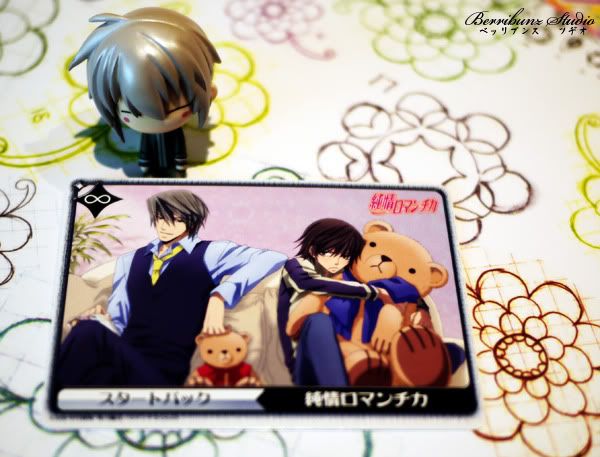 Start packs come with an extra Joker card that cannot be played. But it make for a good collector's item. =)
Now I shall attempt to explain what the whole Alice x Cross game is about:
Dcal's Alice x Cross TCG Playing guide!
*Note that I am still a noob to the game and some of the points I have noted may be wrong. >_< Though I promise to update this post with correct instructions as I get more exposure to the game. If you want to know the finer details on how the game should be played, and that you can read Nihongo, then please proceed to the official playing guide here. (The instructions are all on images with renders google translate useless. T-T)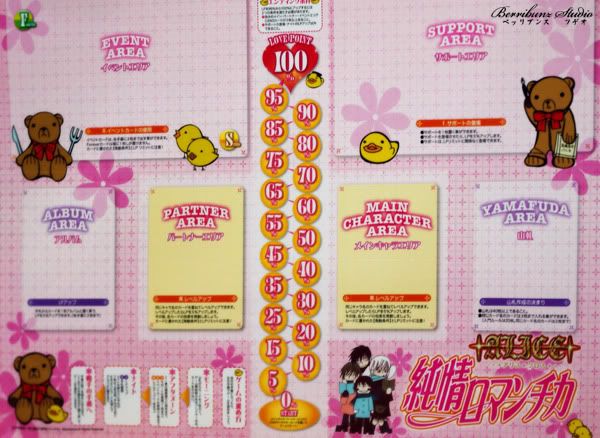 Here is a poorly taken picture of a JR play mat. It describes the different areas where the cards go. =D The official Alice x Cross website provides a closer look at the 'Pureimatto'.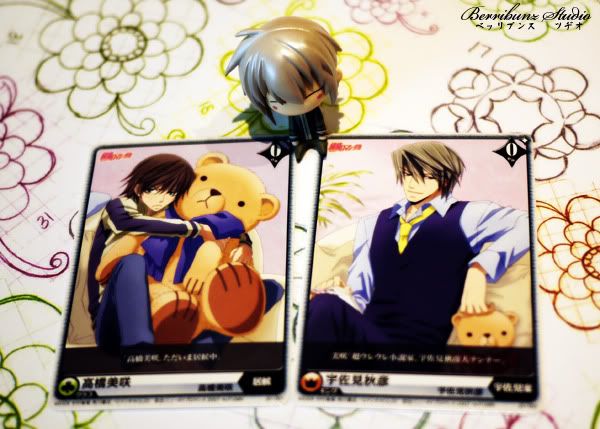 Before the game even begins, players have to first pick their pairing.
Main Character & Partner Area:
Character Cards with 0% are usually character cards with no 'powers' and are used at the start of the game to define the characters / pair that has been selected to level up during the game.

Character Cards are cards that are in portrait orientation and includes a symbol (♥.♦.♣.♠ etc), name (高橋美咲 etc)  and attribute (居候 etc)of a character.*

Main Character cards are fixed and can never be swapped.

This rule applies to Partner cards as well, with the exception of certain scenarios that may occur as the game in played.
*To find out in detail what each card means, I suggest using google translate on the cardlist provide on the Alice x Cross website. It should provide a rough idea on what are the abilities of each card and how it can be strategically played.
At the beginning of each game, Jankenpon btw the two players will determine who starts first. Both players will draw 5 cards from the deck…
Yamafuda Area:
The deck of shuffled cards go here.

Min. 40 cards.

Max. 100+

Cards can be from one series or a mixture of several.
…and the winner of Jankenpon will start the game.
At the beginning of each turn:
Player is draws two cards from the Yamafuda area and

adds it to hand

(unless the player is starting the game, whereby the draw 2 rule is not applicable)

.

Pplayer can hold up to a

maximum of 7

cards in hand at the end of turn.

P

layer will play cards across the board in the order of : Support Area –> Events Area–> Main character /Partner Area –> Album Area.

Every time a card is played, 5% LP is awarded.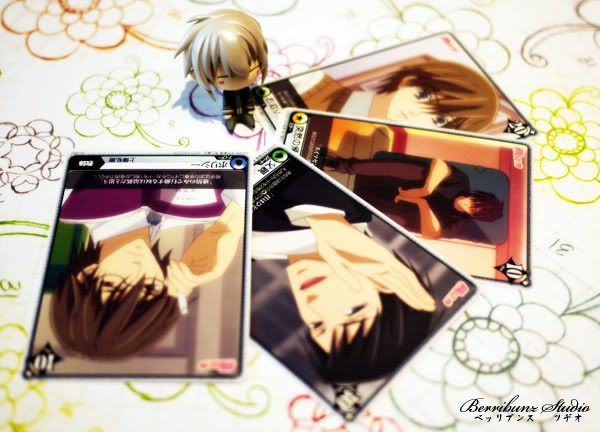 Support Area:
Character Cards

that aren't Main Character/Partner Cards can be played in this area(see image above for example).

Only one Character Card can be played in the Support Area each turn.

There is no maximum cap on the amount of Character Cards that can remain in the Support Area.

Character Cards in the Support area could 'trigger' events when the conditions on the cards are met.

Two Character Cards with the same name cannot exist in the Support Area. Such Character Cards are to be 'replaced' when played. For example, if the player has a 上條弘樹 card in the Support Area and wishes to play another 上條弘樹 card, the first card must be discard into the Album Area before the second 上條弘樹 card can be played.
Event Area:
This area is divided into two parts: Forever and Speed.

During each turn, the player can either play a Forever card or a Speed card.

However, to play either of each type of card, the player must fulfill the LP % required to play the card. For example, if a player wants to play a 30% Event card, she must first attain 70% LPs.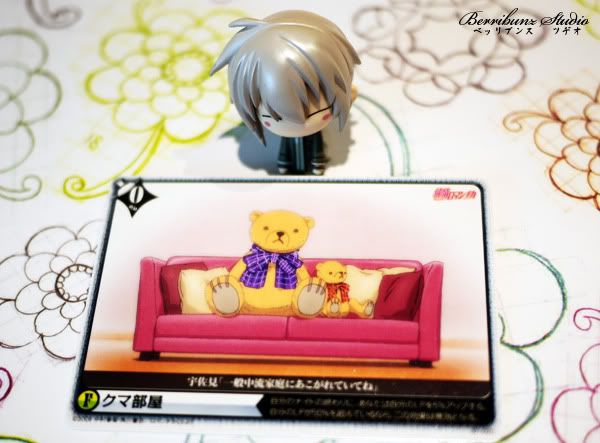 Forever Cards:
When a played, Forever cards can remain in the Event area till the player decides to replace it with another forever card.

Forever cards have the ability to increase LP % etc if conditions stated on the card are met during each round. For example, a card could describe "When there is a card with XYZ attribute is added to the Support Area, Player gains additional 5% LP."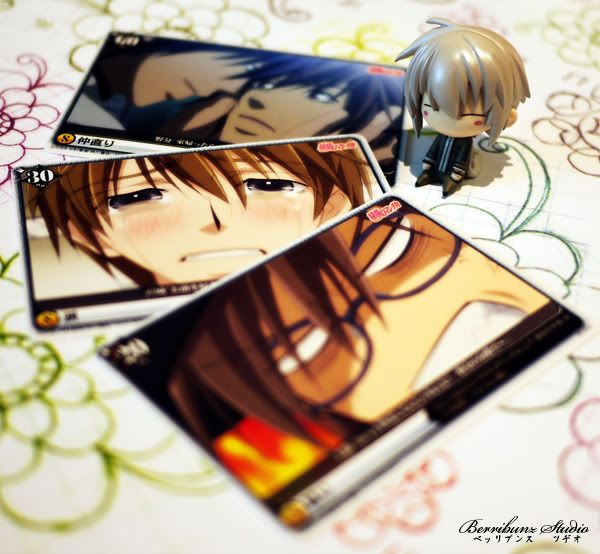 Speed Cards:
When a played, Speed cards are only effective for one turn.

After which they will be discarded to the Album Area with no additional LP increase.

If conditions stated on the card are met during the player's turn, Speed cards have the ability to increase LP %, reshuffle cards and more.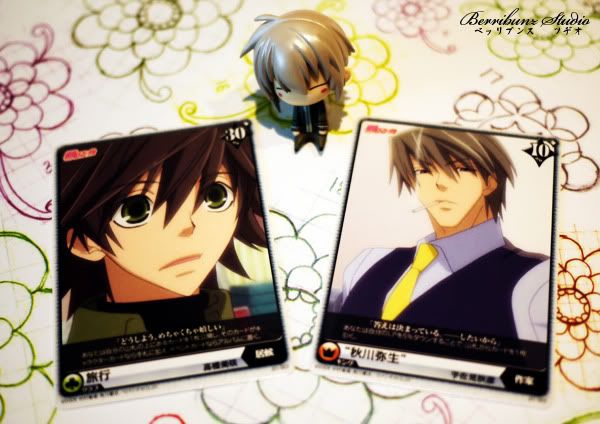 Leveling up Main Character / Partner cards:
During each turn, the player has the choice to level up either the Main character or Partner cards.

However, to play either of each type of card, the player must fulfill the LP % required to play the card.

If the conditions described on the card are met, additional LP % may be awarded to the player.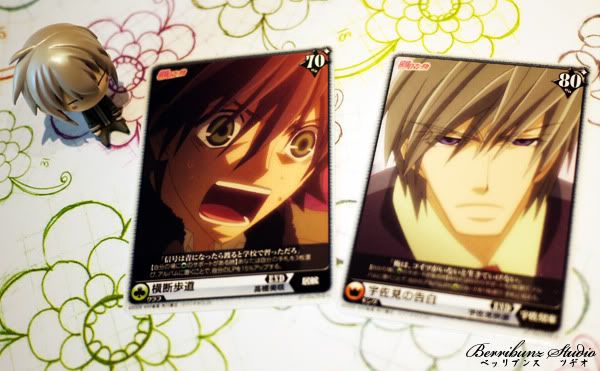 <END> Cards:
<End> cards are required to end the game.

There are two types of <END> cards: Character cards with <END> and Speed cards with <END>.

Two <END cards must be played before the player can end the game by reaching 100% LP.

The game will end when <END> cards cards played in both the Main Character Area  &  Support Area with 100% LP.

Or when <END> cards are played  in both the Event Area & Main Character or Support Area with 100% LP.
Album Area:
Cards that have been used in the Support and Event Area can be discarded into the Album area. No additional LP will be awarded.

However, at the end of each turn, players can choose to discard cards from their hand. 5% LP will be awarded to each discarded card, with a cap at 10% LP for each turn.
-End of Guide-
*whew* That was quite a challenge to write. =_=" The game is really quite simple to grasp and fun to play. The abilities of each card can get really interesting and crazy. Like how I encountered a card that required both players to play Jankenpon to determine the % increase of LP. =D Each game takes around 15-20mins to play, depending on how well you know your cards. As each deck can be build in a myriad of configurations, there are countless ways that the game could go. I would love to develop my TCG playing skills for Alice X Cross further and I'm sure that there will be more opportunities ahead to sharpen my skills. =)